Since customized products became a year's trend, sublimation printing technologies have been advancing at a neck-breaking pace. Now, a new sublimation printer emerges in the market every day, carrying more surprises for customers. While this is good news for many businesses, it might put you in a pickle trying to find the best sublimation printer among unlimited choices.
Lucky for you, we've made a list of the best sublimation printers on the market today, along with a buying guide to help you reach a decision. So without further ado, let's jump in!
At a Glance:
The 7 Best Sublimation Printers in 2023
Here are our brief reviews of the seven best sublimation printers on the market.
1. Epson EcoTank ET-15000 – Best Overall
CHECK THE PRICE
With its versatility, durability, and cost-effectiveness, the Epson EcoTank ET-15000 sits on the ruling throne of sublimation printers. It has an impressive paper capacity of 250 sheets, along with a rear feed and one front tray.
The ET-15000 features relatively low printing costs, as it comes with low-cost replacement and refillable cartridges instead of the usually expensive ink bottles. Not to mention, you won't face any cartridge waste as the ink bottles are pretty high-yielding. However, the yield might differ according to the images you want to print, the temperature, and the print settings.
It's also worth mentioning that the ink with this printer isn't suitable for sublimation. So you'll have to buy the ink yourself.
The Epson sublimation printer comes with a 2.7-inch touchscreen and voice-activated printing for ease of use. Also, it supports internet connections.
As for the quality of prints, you'll enjoy bright colors and vivid details with this printer. What aids in this is the high-density print chip that offers unprecedented color accuracy with 40 million dots per second.
Pros:
250-sheet paper capacity
Low running costs
Touchscreen and voice-activated printing
High-density print chip
Cons:
Final Verdict
The all-in-one Epson EcoTank ET-15000 will guarantee the success of your sublimation business with the exceptional features it provides.
2. Epson EcoTank ET-2720 – Runner Up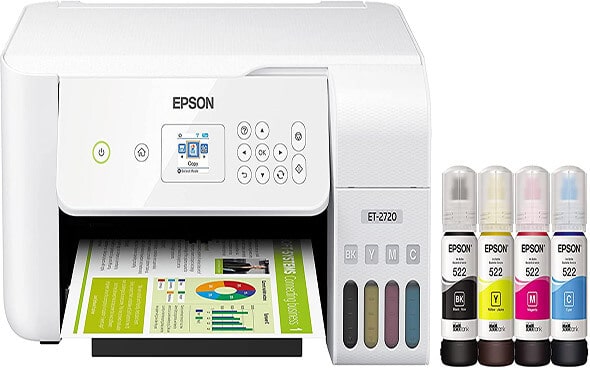 CHECK THE PRICE
The EcoTank ET-2720 comes close second on our list with its speed, ease of use, and affordability. It's one of the few Epson printers that won't break your bank, which is ideal for people starting a new business.
It utilizes easy-to-fill and high-capacity ink tanks and features an excellent-resolution flatbed scanner and copier. You'll also save replacement ink money by up to 90% and won't have any cartridge waste.
The Epson printer features excellent print quality with unique heat-free technology and vibrant colors on all paper types. As for connectivity, you can use your ET-2720 over USB, Ethernet, and Wi-Fi. As a bonus point, you can use the Epson Smart Panel application to print any image from your smart device. It also comes with voice-activated printing.
Epson provides a two-year warranty with this EcoTank printer, including replacement if the product arrives faulty. Finally, the ink that comes with this printer isn't suitable for sublimation. So before working on your sublimation printing business, you'll need to buy specific sublimation ink.
Pros:
Excellent connectivity
Affordable
Voice-activated printing
Two-year warranty
Cons:
Final Verdict
If you want a reliable printer for sublimation but don't want to dent your wallet, look no further than the Epson EcoTank ET-2720.
3. Sawgrass Virtuoso SG400 – Best for Limited Space
CHECK THE PRICE
The Sawgrass Virtuoso SG400 is a great sublimation printer option for beginners who are just starting to venture into sublimation printing. It has exceptional features that are useful for producing high-quality prints that will satisfy any customer.
The SG400 can print stunning graphics with vibrant and accurate colors on a variety of materials, including ceramic, metal, and textiles. The printer's speed and efficiency allow you to produce prints quickly without sacrificing quality, making it an optimal choice for those starting in the sublimation industry.
The Sawgrass Virtuoso SG400 is also an excellent option for professionals looking for a reliable and easy-to-use printing solution. If you are looking for a budget-friendly sublimation printer with incredible features, the SG400 is definitely worth considering. In combination with the other sublimation printers such as the Epson Workforce 7720 or 7840 and the Epson EcoTank 2720, any beginner or professional can choose the best sublimation printer that meets their requirements.
Overall, the Sawgrass Virtuoso SG400 is a top-notch dye-sublimation printer that delivers exceptional print quality and versatility. While it may be on the pricier side, it is well worth the investment for anyone looking to produce high-quality, custom prints. With its easy-to-use interface and reliable performance, the SG400 is a great choice for both beginners and experienced print professionals alike.
Pros:
Designed specifically for sublimation
Easy-to-use interface for artists
Dazzling HD photo-quality prints up to 8.5″ x 14″
Optimized head jetting pressures and advanced algorithms for superior image quality
A fully integrated sublimation printing system
The bundle includes complete set of Sawgrass Sublijet HD inks and 110 sheets of sublimation paper
Can print up to 1200 x 1200 dpi for high-quality reproduction
Comes with an installation kit
A ready-to-start system with a brand-new sealed box
Cons:
Limited to sublimation printing only
May require additional maintenance and troubleshooting for optimal performance
Relatively expensive compared to other inkjet printers
May not be suitable for high-volume printing needs
Final Verdict
The Sawgrass Virtuoso SG400 is a high-quality dye-sublimation printer that delivers consistent and reliable results with true-to-life colors. Its versatility, ease of use, and exceptional print quality make it a worthwhile investment for anyone looking to produce custom prints.
4. SureColor F570 – Best Print Quality
CHECK THE PRICE
If you don't mind paying a large amount of money and getting outstanding features in exchange, you'll fall in love with the SureColor F570. It delivers high-quality printings with its Nozzle Verification Technology, PrecisionCore printhead, and Precision Droplet Control.
Moreover, it comes with a pack of sublimation transfer paper to ensure maximum clarity and vivid colors on all materials, whether hard or soft. That's why the F570 rules in terms of versatility and will help your sublimation printing business rise to the top of the market. It also takes sheets up to 24 inches in width and comes with a built-in rotary cutter and an auto-feed tray that can take up to 50 sheets.
If you purchase the SureColor F570, you don't need to worry about your workspace. It has a compact design that'll fit on your desk easily.
While the F570 works with both Windows and Mac printing software, it doesn't come with a specified design software of its own as other models do.
Pros:
High-quality printings
Versatile
Built-in rotary cutter and 50-sheet auto-feed tray
Works with both Windows and Mac printing software
Cons:
Pricier than other options on our list
Final Verdict
If you prioritize high-quality products over affordability, you should opt for the SureColor F570 for its exceptional features.
5. Sawgrass Virtuoso SG1000 – Most Luxurious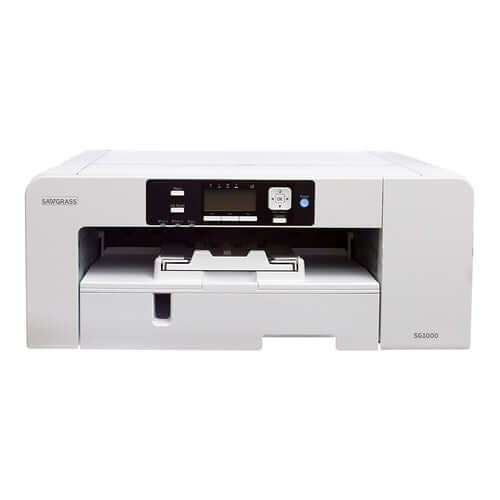 CHECK THE PRICE
The Sawgrass Virtuoso SG1000 offers luxury as no other sublimation printer does. It'll take your sublimation printing business a mile away from mediocrity with its high-quality results and impressive resolution. In addition, it comes with an Ultra-Fine photo mode that allows printing at 4800 x 1200 dpi.
To help beginners start their sublimation journey, this printer comes with many guides to sublimation, along with a complete set of ink cartridges. You can use the SG1000 to print many products, ranging from glass and metal to fabrics and polyester.
We're all familiar with the usual color fading that happens to customized, printed products. However, you can forget about this inconvenience with the SubliJet-UHD inks that come with this printer and most Sawgrass printers.
If you leave the Sawgrass printer for a long while without using it, you don't need to worry about bringing it to speed again. It comes with an innovative self-maintenance mood that ensures the printer runs perfectly even after a long time.
Finally, the SG1000 features an online sublimation-specific design tool. It comes with many ready-to-use templates and designs that you can incorporate into your work. This way, you won't need to exhaust your mind trying to brainstorm new ideas.
Pros:
Ultra-Fine photo mode
Sublijet-UHD inks
Self-maintenance mood
Online sublimation-specific design tool
Cons:
On the pricey side of the market
Final Verdict
If you want a luxurious printer that offers remarkable features and high-quality results and don't mind denting your wallet a bit, go for the Sawgrass Virtuoso SG1000.
6. WorkForce WF-7210 – Best for Two-Sided Printing
CHECK THE PRICE
The WorkForce WF-7210 takes a proud stance among printers because of its staggering features. It delivers high-quality printings with high-resolution graphics and vivid colors. This is because of the PrecisionCore technology that many Epson sublimation printers offer.
On top of that, the WF-7210 features a shocking 500-sheet capacity, which means you won't have to supply it with sublimation papers every other day. The inkjet printer also has a rear feed for specialty paper and two paper trays that can take up to 250 sheets each. As a result, it highly resembles the Epson Workforce WF-7720 in many features.
Unlike many choices on our list, this Epson Workforce model allows two-sided printing. It also comes with an LCD for smooth navigation and easy setup. As for connectivity, it offers wireless printing through Wi-Fi direct connectivity. You can also use it to print images from your smart device, whether a phone or a tablet.
Finally, the WorkForce sublimation printer uses high-capacity ink cartridges that allow for high-volume printing without an issue, like all WorkForce printers.
Pros:
Wireless connectivity
500-sheet capacity
Two-sided printing
LCD for smooth navigation
Cons:
Works with only Epson ink cartridges
Final Verdict
The Epson WorkForce WF-7210 is one of the best dye-sublimation printers on our list for business use because of its high-quality printings, astonishing sheet capacity, and two-sided printing feature.
7. Brother HL-L2320D – Most Budget-Friendly
CHECK THE PRICE
If your business is expanding fast and you need a printer to accommodate your needs at a quick speed, then the Brother HL-L2320D is the one for you. Since laser printers are much faster than inkjet ones, you'll enjoy a maximum print speed of 30ppm. As a result, you can print high volumes in such a short time.
Also, this printer allows for two-sided printing, also known as automatic duplex printing. This means that you can print many designs at once without wasting paper.
As for the sheet capacity, it comes with a tray that takes up to 250 sheets at once. In addition, the Brother printer produces high-quality prints with a maximum resolution of 2400 x 600 dpi. Not to mention, it features a Toner Save mode that'll drastically decrease your printing cost.
If you're on a tight budget, you don't need to worry about the future of your sublimation printing business, as this printer comes at a pretty reasonable price.
Pros:
30ppm printing speed
Automatic duplexing
250-sheet capacity
Budget-friendly
Cons:
It doesn't come with a USB cable
Final Verdict
If you want an affordable and good sublimation printer that'll perform well in both sublimation and photo printing, look no further than the Brother HL-L2320D.
How to Choose a Sublimation Printer
There are a few key factors that you should consider when buying a sublimation printing machine. Here's a brief roundup of all of them.
Printing Quality
If you enter the customization business, you'll face many competitors. That's why it's essential to rule in terms of quality. To check a sublimation printer's printing quality, you should look at the resolution and color accuracy. Generally, sublimation printers with a resolution of about 2400 dpi rule the market.
As for the color accuracy, you can check it by looking at the printer's ink system. The more ink cartridges a printer can utilize, the better its accuracy.
Printing Speed
Printing speed is crucial when buying sublimation printers, especially for expanding businesses. If you have many orders and can't print them in a reasonable time, you'll lose customers. That's why you should look for sublimation printers with a range of 10-30 ppm printing speed.
Connectivity
Sublimation printers with wide connectivity will make your life much easier. Ideally, you should look for a printer that works over Wi-Fi, USB, and Ethernet. This will come in handy if you want to connect your printer directly to the router and not use Wi-Fi. As for the USB ports, they'll come to the rescue if you're going to print an image from another device.
Ink Budget
If you're new to dealing with printers, you'll be shocked at the expense of buying and replacing ink. That's why you should check the brand of ink that the printer uses and see whether it's within your financial abilities. You should look for sublimation printers with refillable ink tanks to lower the costs.
Frequently Asked Questions
Can I Use Any Printer for Dye Sublimation Printing?
No, you can't. You have to use a sublimation printer. Some people also convert regular inkjet printers to sublimation ones. Luckily, you can easily do this to many Epson printers with sublimation paper and ink.
What Is the Difference Between Sublimation and Using Heat-Transfer Vinyl?
Using heat-transfer vinyl is simply transferring ink from one surface to another. As a result, the colors are susceptible to cracking and fading. However, during sublimation, the ink penetrates the material you're using, so the paint can't disappear. In general, heat-transfer vinyl works beautifully in DIY home projects, while sublimation rules in the business world.
What is the difference between Epson EcoTank and WorkForce for sublimation printing?
Epson EcoTank and WorkForce are two different printer lines from Epson. While EcoTank printers are designed for general printing purposes, WorkForce printers are geared toward office and business use. For sublimation printing specifically, WorkForce printers are a better choice due to their faster printing speeds and specialized features such as specific ink systems and software.
Can Cricut do sublimation?
No. Cricut machines are not capable of sublimation printing because they do not have the ability to print using sublimation inks or heat transfer papers.
To Wrap Up
If you've been looking for the best sublimation printer on the market, we have good news for you. The Epson EcoTank ET-15000 is ideal for most people because of its exceptional features and practicality. Meanwhile, the Sawgrass Virtuoso SG400 will come to the rescue if you have a small workspace and can't fit most sublimation printers on your desk.
All in all, you can start your sublimation journey with any great sublimation printer from our list.
I am a bilingual, meticulous, and hardworking professional. As a high-energy professional, and printing specialist who offers high-quality printing services I possess excellent oral and written communication skills coupled with an ability to establish and maintain strong rapport with clients. I am able to prioritize workloads and handle multiple projects simultaneously and efficiently. My work experiences have made me accustomed to working in fast-paced environments with the ability to think quickly and successfully handle difficult situations.