Labels are the starting point of any business, as they have to be on any type of product that a company might be selling. Now, you could go to a print shop and order your labels every single time, or you could make them by yourself!
To print these labels yourself, you'll need a label printer. There are countless options on the market, ranging from ones that can take up an entire room to some that can fit in your palms. We're here to help you decide which one would work best for you in terms of efficiency, cost, and some other essential aspects.
| | | | | |
| --- | --- | --- | --- | --- |
| Name | Price | Printing Tech | Connection | Color |
| Brother VC-500W | Check Price | Inkjet | Wireless | Colored |
| Brother QL-820NWB | Check Price | Thermal | Wireless, USB, Ethernet | Monochrome |
| Epson EcoTank ET-2750 | Check Price | Inkjet | Wireless, Ethernet, USB | Colored |
| DYMO LabelWriter 450 | Check Price | Thermal | USB | Monochrome |
The 4 Best Printers for Labels in 2023
If you're searching for the best printers in the market to make labels, then have a read down below for all of the top printers in 2021. Keep in mind that each printer is good in specific areas, so you'll have to decide based on what factor matters the most to you. So, without further ado, let's get into it!
1. Brother VC-500W – Best Overall
CHECK THE PRICE
Brother is one of the more established names in the printing industry, as you'll find their products to be as reliable as they come, and that includes the Brother VC-500W. It can be considered one of the best printers for labels in the market, as it checks almost all the boxes. And it makes use of inkjet technology but in a unique way.
Brother makes use of zink paper, short for zero-ink because it doesn't require any ink input for printing. Instead, it stores zink paper inside, which has all the colors on it backed with adhesive. Then, the printer applies pressure on this paper to make prints. This can save you the hassle of buying ink or cartridges over and over again.
Not to mention, this printer supports wireless printing, which means you can print directly from your phone. There aren't any significant downsides to this printer, but if we had to choose, it could be the fact that it has a slightly smaller maximum paper size of 2".
Pros:
No need to use any ink, as it implements zero-ink technology
Cheaper than some other options on the list
Lower cost per print, as no ink is used up
Supports wireless printing, allowing users to print directly from their smartphones
Cons:
The maximum paper size supported is only 2 inches, slightly less than some of its competitors
Verdict
This Brother VC-500W printer is an all-around excellent label printer on the market, with a relatively low price tag and low maintenance costs on top of that as well. You escape the hassle of having to replace ink or cartridges inside from time to time as well, thanks to its zink technology.
2. Brother QL-820NWB – Best for Speed
CHECK THE PRICE
Another product from Brother, the Brother QL-820NWB, is another great option on the market if you're hunting down label printers. This printer is one of the fastest printers out there, as it can print out 110 standard address labels per minute with black text. It achieves this rate while maintaining a clarity level of 300 dots per inch.
Moreover, you get an option to connect to the printer via USB and ethernet on top of wireless availability. Furthermore, you can link the QL-820NWB with a scanner, as it offers a USB-host interface. The printer comes with an LCD black and white screen too, allowing ease of use for consumers.
However, one setback of this printer is that it can't print in color. It only comes with the option of monochrome printing, which would work great for a supermarket needing to print out receipts but not so much for a logo print of a company.
Pros:
Extremely fast printing (at 110 standard address labels per minute)
Comes with an LCD for ease of use
Offers multiple connectivity outlets, including wireless, ethernet, and USB
Cons:
Is slightly on the pricier side
Can only print in black and white
Verdict
As we mentioned above, if you have labels that you want to be printed in black and white, the Brother QL-820NWB can be an excellent option for you. It also prints extremely fast at 110 address labels per minute, which would be great for retail.
3. Epson EcoTank ET-2750 – Most Versatile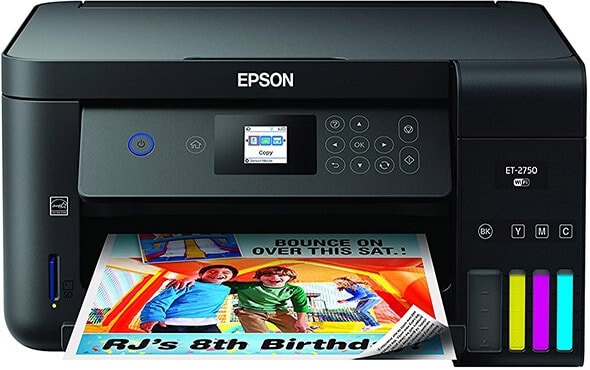 CHECK THE PRICE
Epson EcoTank ET-2750 is a great option from Epson, another trustworthy brand in the printer market. This isn't a printer explicitly made for label-making.
Albeit a bit more expensive, this Epson printer can take care of all your printing needs, with a 3-in-1 capability of printing paper, envelopes, and labels all in one. These usages make the printer one of the most versatile printers you can get on the market.
Furthermore, it's an inkjet printer, and it does require you to refill its ink tank, but you get 2 years' worth of ink bottles in the box when purchasing the printer. Nonetheless, you still have to change the ink every now and then.
You can also connect your smart devices to this printer wirelessly, which is always a convenient feature in printers. Last but not least, the printer has a built-in function of printing both sides of your paper at once, which can save you 50% on paper costs.
Nonetheless, it is to be noted that the Epson printer doesn't have a cutter included because of not being a dedicated label printer, so you'll have to cut the labels manually there.
Pros:
3-in-1 printing capability (printing papers, labels, and envelopes)
Comes with 2 years' worth of ink inside the box
You can print on both sides of your paper
Enables wireless connectivity
Cons:
You have to change ink frequently
A bit pricier compared to other options
Verdict
The Epson EcoTank ET-2750 is an excellent printer with excellent print quality. You can use this for other printing needs apart from labels as well, as it'll help you print normal paper as well.
See also: The 5 Best Epson Sublimation Printers For Beginners
4. DYMO LabelWriter 450 – Best Budget Buy
CHECK THE PRICE
The DYMO LabelWriter 450 is a budget label printer because it's the cheapest option on our list. Starting with the positives, you get a thermal printer that doesn't require any ink or toner cartridges to be installed or changed. You can print with this printer for as long as you want without worrying about refilling anything.
Moreover, you also get a relatively fast printing speed for thermal printers, at about 52 labels per minute. Nevertheless, the printer's reasonable price means you have to cut back on some features.
For instance, you'll need to use DYMO's own labels for the printer, and it'll only print in monochrome colors. There's also no support for wireless connectivity, with the only available connection outlet being USB. Still, it's a decent buy for new startups and small businesses for the price it comes at.
Pros:
It's one of the most affordable options out there
You don't need to refill ink or change cartridges again and again because it's a thermal printer
Respectable print speed of 52 labels per minute
Cons:
You can't print in colors, as it only has monochrome printing available
No support for wireless connectivity
Verdict
If you're looking to open up your store or need an affordable printer for labels, then the DYMO LabelWriter 450 is a decent option to go for. You get incredible printing speeds without needing to buy or change ink/toner.
Factors to Consider When Buying the Best Printer for Labels
Before buying the right printer for you, you'll need to consider a few factors which define a good label printer. We've listed some of the most important ones to look for down below.
Connectivity
Considering how everything is digitalized nowadays, with smartphones being able to do almost everything, you should probably look for a label printer to operate with a touch of your smartphone.
Hence, it's a great idea to see whether the printer you're looking at has the option of wireless connectivity, which essentially means that you can connect to the printer from your smartphone directly. Also, consider the available connectivity options, including USB and ethernet connections.
Color
Another critical factor to consider before buying a label printer is whether or not it offers colored print. A lot of label printers offer colored prints, which would be befitting if you're looking to print your logo or personal cards.
Monochrome printers would work better for printing receipts or other types of prints that consist of black text. This also affects your cost per print, which might be another aspect that you might want to look into when buying a printer.
Type of Printer
The type of printer has quite a bit of significance in a printer because it defines whether or not you need to buy extra ink or toner again and again after every several prints. The two main types of printers are inkjet and thermal, the latter of which don't require ink or toner for printing.
However, inkjet printers do require some type of ink. But some printers like the ones which use zero-ink technology, such as the Brother VC500-W, don't need ink. Nevertheless, this is a significant point to consider when making a label printer purchase.
See also: The 6 Best HP Printers That Use 61 Ink
Width of Labels
Another critical factor you'll have to consider before buying a label printer is the width of the label it supports. This can be checked by measuring the maximum paper roll width that a label printer might accept. Most printers can take in anything from a 0.5" paper roll all the way to a 10" one.
So, depending on what type of label you need to print, choose the printer that'll print that size for you.
Frequently Asked Questions
Can Thermal Printers Print Color?
Most thermal printers are unable to print color and are monochromous. Although you might find some options that allow two-tone colors, most thermal printers that can be commercially bought and are easily found only support black and white printing.
How Big Are Label Printers?
Most label printers can be considered handheld devices because most people can easily hold them in one hand, so they're typically compact.
Do I Need to Cut the Labels Myself?
No, you don't. Most, if not all, label printers come with some sort of cutting mechanism. This can be in the form of serrated blades in the mouth of the printer or levers that you need to pull on to cut the labels. Some printers even have an automated cutting option, so you don't even need to pull on anything.
Read also: Top 5 Best Sublimation Inks For your Printer
Final Thoughts
All in all, the best printer for labels is the one that serves your needs best. However, there has to be an option that looks to be the best generally, and for us, that'll be the Brother VC500-W.
The Brother label printer checks all the boxes, with colored printing, reduced costs thanks to zink paper, and no requirement to change ink or toner cartridge. It's a great buy no matter what angle you look at it from and our pick of the bunch.
Another great option if you're looking for monochrome printing is the Brother QL-820NWB. The fact that it's a thermal printer means that you don't need to replace its ink or toner, which is an excellent point of convenience for long-term usage. But whichever printer you land on, we wish you all the success in your business!
I am a bilingual, meticulous, and hardworking professional. As a high-energy professional, and printing specialist who offers high-quality printing services I possess excellent oral and written communication skills coupled with an ability to establish and maintain strong rapport with clients. I am able to prioritize workloads and handle multiple projects simultaneously and efficiently. My work experiences have made me accustomed to working in fast-paced environments with the ability to think quickly and successfully handle difficult situations.