Finding the right printer is a bit challenging with the thousands of models that are released on the market every day. The good news is, you don't really need any special printers to print your favorite stickers; the trick is in finding the features that complement your prints.
Wondering if you can find the best printer for stickers? Make sure to keep on reading for a lot of surprising options.
Comparison Table:
| | | |
| --- | --- | --- |
| Printer | Maximum Printing Resolution | Maximum Printing Speed |
| HP ENVY 5055 | 1200 x 1200 dpi | 10 ppm |
| Brother VC-500W | 313 dpi | 8 mm/sec |
| Canon 2986C002 PIXMA TS6220 | 4800 x 1200 dpi | 15 ppm |
| Brother MFC-J497DW | 1200 x 600 dpi | 12 ppm |
| Canon PIXMA PRO-200 | 4800 x 2400 dpi | 2.5 ppm |
The 5 Best Printers for Stickers in 2023
In this section, we'll be reviewing the top printers for stickers that are currently available on the market, highlighting their best features and the ones that need improvement.
1. HP Envy 5055 – Editor's Choice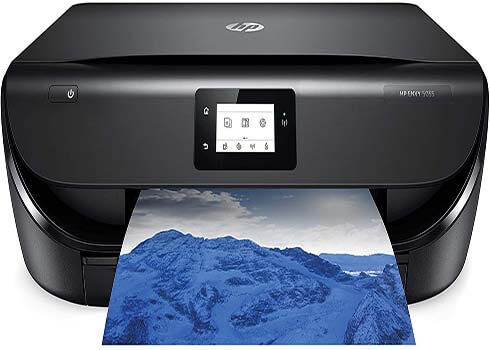 The HP Envy 5055 is the newer alternative to the HP 4520, with markedly enhanced connectivity. Also, even though both printers are great for printing vibrant stickers, the Envy 5055 is significantly faster with an inconsiderable difference in price.
As expected from all HP printers, the Envy 5055 produces crisp photos and accurate details. This is particularly impressive for such an entry-level printer that can still keep up with other customer-grade printers that use a wider color gamut but at a higher price.
Additionally, users can subscribe to HP Instant Ink, taking advantage of numerous ink offers and flexible paying plans, which saves up to 70% on ink expenses compared to non-subscribers.
Moreover, Instant Ink can detect ink levels, notify the users when they're low, and automatically ship new cartridges before they run out of ink. Not to mention, if you don't use all of your monthly pages, your plan rolls over to the next month, so your money never goes to waste.
As per setup, you can use the HP Smart app, which gives you multiple privileges when it comes to wireless connection and printing or scanning stickers and documents from various sources, including Google Drive, Dropbox, iCloud, mobile devices, and more.
Also, since it utilizes reliable, dual-band Wi-Fi and Bluetooth with a smart driver, you can rest assured that your connection will be steady no matter what.
Last but not least, the Envy 5055 is ENERGY STAR certified, so you won't be paying a fortune on electricity, even if you keep it running all day long. That being said, whether you need the printer for stickers, printing school assignments or documents for your work, copying, scanning, faxing, or all of these combined, the HP Envy 5055 can get it done in no time.
Pros:
Fast printing
Can print from multiple sources
Reliable Wi-Fi and Bluetooth connectivity
All-in-one printer
Reasonably priced
Excellent print quality
Easy setup
1-year limited hardware warranty
Cons:
The running costs are expensive without Instant Ink's subscription
Bottom Line
The HP Envy 5055 is a user and pocket-friendly printer that's suitable for fulfilling the basic printing needs of the majority, especially when it comes to graphics and stickers, thanks to the versatile yet economical cartridges.
2. Brother VC-500W – Portable Pick
The Brother VC-500W is a pocket-size printer that's suitable for printing stickers, photos, and labels for art projects, customized gifts, organization prints, home decoration, etc.
Instead of using regular paper, special media rolls are attached to the printer, which rolls out from the front slot when printed on, and then the user cuts them with the slider located on top of the paper.
As you can tell, the printing process is quite simple, and even though the Brother VC-500W is no printing demon, its speed is pretty reasonable considering that it's made for personal use rather than high-volume projects.
All that aside, the print quality is spectacular, and the stickers come out vibrant with accurate and bright colors. Rarely will you notice any graininess, and if you did, it'd never be extensive nor unacceptable. Overall, we're extremely satisfied with the quality of the prints, particularly when compared to that of other pocket photo printers.
Furthermore, this printer is compatible with multiple stickers and label-making apps like P-Touch Editor and Color Label Editor, both of which are available for Android and iOS, let alone the iPrint&scan app. These applications give the user access to plenty of clip art, frames, fonts, and different designs and effects to make the most impressive stickers.
Lastly, it's worth mentioning that the printer features ZINK (Zero INK) technology, which eliminates the need for constantly buying ink to run the printer. The technology is pressure-based, whereas the ink is held in the paper roll itself and is pushed out and mixed to produce your desired images as you print.
Although ZINK cuts down the ink hassle and the rolls are widely available online or in stores, it comes at a price, and this is why we don't recommend using this printer – or any other pocket-size printer – for high-volume businesses.
Pros:
High-quality prints
Doesn't require ink cartridges
Passable printing speed
Fits right in your pocket
Cons:
Not suitable for heavy printing
The running costs are relatively high
Bottom Line
The Brother VC-500W is a convenient, portable printer that you can take out to work on your stickers and label while on the go. It also works great for group and family projects. Despite its small size, it's extremely reliable and produces excellent photos with accurate details.
3. Canon 2986C002 PIXMA TS6220 – Best Photo Quality
The Canon PIXMA TS6220 is one of the 5-ink photo-centric models that are known for their brilliant colors and great details, especially when printing photos and graphics. Also, the black is extremely dark, which creates an excellent contrast in images and sharp text.
Unlike the previous printer, the PIXMA TS6220 is suitable for high-volume printing as it can hold up to 200 sheets divided between the front and the back sheet trays. Additionally, you can choose the paper size you prefer for your stickers as it supports a variety of paper sizes, including the square paper that's suitable for printing Instagram photos.
One of the best features of the Canon TS6220 is the user-friendly control panel, owing to the 3-inch color LCD touchscreen with an audio alert, which functions as a document removal reminder as soon as your print is ready to remove from the scanner.
Also, because the printer is compatible with Alexa, you can use voice control to give various orders to the printer hands-free. It also supports several web applications and services that automate the printing process according to the user's personal preference.
In terms of connectivity, the printer is one of the most convenient options as it connects to multiple devices with great simplicity, whether they're PCs, Macs, mobile phones, tablets, or other devices.
It also supports Bluetooth, Wi-Fi, and USB connections, which allow the user to print from different devices simultaneously. Not to mention, you can directly print from several Canon cameras.
Add to this, similar to the majority of Canon printers, you can use PIXMA Cloud Print and the Creative Park Premium to create the most innovative stickers, greeting cards, and much more. For editing, you can download the Easy-PhotoPrint Editor from canon which works on PC, Android, and iOS.
Pros:
Exceptional print quality
Budget-friendly
Large paper capacity
Provides access to many helpful applications
Supports Alexa control
The control panel is easy to use
Cons:
Relatively high price per page
Bottom Line
The Canon 2986C002 PIXMA TS6220 is a perfect choice if your first concern is the sticker's quality. It can print terrific images with bright colors and excellent accuracy, and it comes in handy if you're interested in printing other media as well.
4. Brother MFC-J497DW Inkjet – Best Value for Money
The Brother MFC-J497DW is an entry-level multifunctional printer, yet it produces excellent output with solid quality, whether it's stickers or otherwise.
In fact, it can print premium-grade photos with matte or glossy finishes, which makes the prints look more valuable than they actually are. The details aren't as accurate as prints from other high-end options; however, the images still come out well-balanced and admirable, especially since this printer is made for home use and small businesses.
This printer is relatively compact, considering it's an all-in-one printer, making it easier to place. It also offers great functionality whether it comes to printing speed, paper handling, or connectivity.
Although the control panel looks a bit too complicated as it compromises many buttons, a complete set of navigation keys, and a number pad, it's incredibly efficient once you get used to it. Moreover, you can always connect it to an Alexa device and execute your commands through voice control rather than using the control panel.
Printing from Apple or Android devices is as reliable as you'd expect from Brother printers, thanks to AirPrint and Morphia (a feature that allows printing from Android phones). It can also print from Google Cloud, and you can use Wi-Fi direct without having to use a network or a router.
The only downside to the printer is that the sheet tray can only accommodate 100 sheets, but then again, this printer isn't designed for high-volume printing even though the company recommends a maximum printing volume of 1,000 pages a month. Nonetheless, printing such volumes will significantly reduce image quality.
Pros:
Affordable
Compact
Produces well-balanced photos
Can print with matte or gloss finishes
Supports Alexa control
Compatible with various deceives
Cons:
Only suitable for low-volume printing
Bottom Line
Although the Brother MFC-J497DW Inkjet is a cheap printer, there's no compromise in the image quality whatsoever, not if you stick to 100-200 pages a month at max. On the contrary, its printing capabilities make the output look far more expensive than it really is.
5. Canon PIXMA PRO-200 – Best for Professionals
The Canon PIXMA Pro-200 is the best printer for flawless stickers and artwork. Instead of the usual 5 to 6 ink cartridges, it utilizes 8 colors, which translates to richer images with a wider color gamut. Also, the output comes out with unmatchable details.
One of the main reasons this printer is excellent for professionals is that it can handle professional-grade software like Photoshop, Adobe Illustrator, and other powerful processing tools. In addition, the printer allows the user to control various specific characteristics like choosing glossy or matte finishing, the ink absorption rate, and the drying speed.
Whether you're planning to print small-sized stickers or larger ones, the Canon PIXMA Pro-200 can get it done as it supports snapshots of 4×6 inches up to large 13×39 panorama graphics.
It's also suitable for printing square photos in 3 different sizes: 3.5×3.5, 5×5, and 12×12 inches. Keep in mind, though, that the size affects the printing speed, yet it's not much of an issue, particularly because the relatively low speed guarantees a consistent printing quality.
Of course, the software supports all the applications we mentioned while reviewing the Canon PIXMA TS6220, so there's no need to go through them again. And finally, we appreciate the user's interface with the large 3-inch LCD display and the few navigation buttons that make configuring the printer such an easy and simple task.
Pros:
Excellent details
Outstanding output quality
Compatible with many professional-grade programs
Multiple connectivity options
A user-friendly interface
Cons:
Expensive
Low printing speed
Bottom Line
The Canon PIXMA Pro-200 produces premium stickers and images. Regardless of being a bit too expensive, the running costs aren't high, and you end up with unmatchable quality, so it's totally worth it for large businesses and professional users.
See also: The 5 Best Vinyl Sticker Maker Machines
How to Pick a Printer for Stickers
In this part of the article, we'll discuss the different aspects that make a printer suitable for stickers. This way, you'll know what to focus on when picking your new printer.
Resolution
The resolution is measured in dots per inch (dpi). It's essential to pick a printer with a high resolution to guarantee a clear sticker. However, this isn't much of an issue if you only print small-sized stickers because they won't pixelate anyways.
Printing Speed
The printing speed is crucial to consider, especially if you are bound to certain deadlines and delivery dates. The faster the printer is, the easier it is to cope with excessive printing volumes. On the other hand, it's not such an important feature for amateurs or occasional printers.
Color Accuracy
The color accuracy is what makes your stickers pop out. This is why we recommended a printer like the Canon PIXMA Pro-200 for professional users who want their artwork to stay unique and eye-catching.
In many circumstances, you'll notice that color accuracy comes at the expense of speed, so you'll have to prioritize one for the other. Nonetheless, there are fewer options with passable speed and excellent (but not exceptional) accuracy. It's not easy to find such balance, so you'll have to pick one over the other in many cases.
Functionality
If you want to make the most out of the printer, you have to consider its capabilities. Is it a multifunctional printer like the HP ENVY 5055? Does it provide access to editing applications like Canon Printer? What do you expect from this printer, and what other features make it a unique, irreplaceable unit?
The value of the printer has a lot to do with its usability, so why settle for less when you can get more?!
Running Costs
The price of the printer is one thing, and the running costs are a whole different story. Some printers are quite affordable, but the cost per page is kind of expensive. The running costs continue for as long as you're using the printer, so make sure to choose a budget-friendly option with relatively low running costs.
Read also: How to Print on Vinyl Paper: Step by Step Guide
Frequently Asked Questions:
Do I Have to Use a Special Printer for Stickers?
No! A standard paper printer works great for printing stickers; you just need to plan things out a little to avoid wasting your paper.
What's the Best Resolution for Printing Stickers?
Stickers don't require a high resolution; any printer that's 1200 dpi or more will produce clear images.
Do ZINK Instant Printers Produce Good Stickers?
Yes, ZINK prints are known to be resistant to smudges and water. This makes them more durable than stickers printed by traditional printers. That said, you should know that ZINK prints are susceptible to heat.
Final Verdict
There are plenty of excellent printers on the market. In our humble opinion, the HP Envy 5055 and the Brother VC-500W are the best printers for stickers on our list. However, there's no ultimate best; it's all a matter of personal preferences, so make sure to go through our reviews to make an informed decision.
I am a bilingual, meticulous, and hardworking professional. As a high-energy professional, and printing specialist who offers high-quality printing services I possess excellent oral and written communication skills coupled with an ability to establish and maintain strong rapport with clients. I am able to prioritize workloads and handle multiple projects simultaneously and efficiently. My work experiences have made me accustomed to working in fast-paced environments with the ability to think quickly and successfully handle difficult situations.