13×19 printers can be quite expensive, and as much as you'd want to get a good option, there's always that fear of wasting your money on a worthless printer, right? After all, you won't want anything short of the best 13×19 printer for your needs.
Lucky for you, we've reviewed 5 of the top 13×19 printers you can find on the market today, and we're about to give you the full scoop on what they have to offer. So keep on reading for more details!
At A Glance:
| | | | | |
| --- | --- | --- | --- | --- |
| Printer Model | Price | Maximum Resolution | Printing Speed | Paper Capacity |
| HP Color LaserJet Pro Multifunction M479fdw | Check Price | 600 x 600 dpi | Up to 21 PPM | 250 sheets |
| Canon iP8720 | Check Price | 9600 x 2400 dpi | Up to 14.5 PPM | 150 sheets |
| Epson EcoTank Photo ET-8550 | Check Price | 4800 x 1200 dpi | Up to 16 PPM | 20 sheets |
| Canon PIXMA TS9520 | Check Price | 4800 x 1200 dpi | Up to 15 PPM | 20 sheets |
| Epson WorkForce WF-7720 | Check Price | 4800 x 1200 dpi | Up to 18 PPM | 500 sheets |
The 5 Best 13×19 Printers in 2023
We know how hard it is to pick a printer, especially if it's your first time. That's why in each of the below reviews, we'll tell you all there is to know about what makes each of these printers stand out.
1. HP Color LaserJet Pro Multifunction M479fdw – Editor's Choice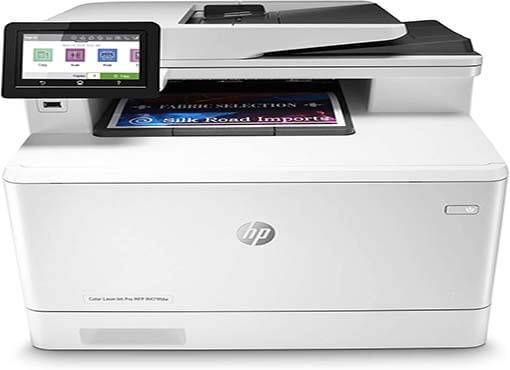 CHECK THE PRICE
The HP Color LaserJet Pro Multifunction M479fdw is one of the best-in-class for being convenient, reliable, and time-saving. Moreover, being an all-in-one printer, you can keep your business moving forward and carry out all of the office requirements from printing to scanning, faxing, and copying at a glance.
The printer features a 250 sheet tray with a 550-sheet optional paper tray and a recommended volume of 4,000 pages, so you can rely on it for heavy projects, especially since you can automate the complicated workflow. What makes the customization pretty easy is the 4.3-inch touchscreen control panel, including all the necessary shortcuts to organize your printing plan.
That being said, speed is guaranteed whether you're printing black or colored documents, with up to 28 pages per minute, which we partly contribute to 2 sided scanning that can be printed in a single pass.
Not only that, but you'd expect a printer with such capabilities to consume a lot of energy. However, the HP Color LaserJet Pro printer is ENERGY STAR certified, saving up to 18% energy compared to other multifunction printers.
You can connect the printer to various devices, even if there's no network, thanks to the built-in Wi-Fi Direct and the Hi-Speed USB 2.0 printing port. In addition, the toner cartridges are efficient, so you don't have to worry about reprints or wasted toner or paper supplies.
Last but not least, this printer was designed with security in mind, allowing you to set an optional pin code and send instant threat notifications. This way, you can make sure the printer is in the right hands and that none of your employees is using it for personal purposes.
Pros:
All-in-one printer
Large paper tray
Customizable workflow
User-friendly control panel
Energy efficient
Can connect to Alexa
Auto on/off technology
One-year limited warranty
Cons:
Bottom Line
The LaserJet Pro Multifunction M479fdw printer is built to impress; whether it's the printing capabilities, connectivity, design, interface, or otherwise, the printer excels in every single aspect we've tested.
2. Canon iP8720 – Best Photo Quality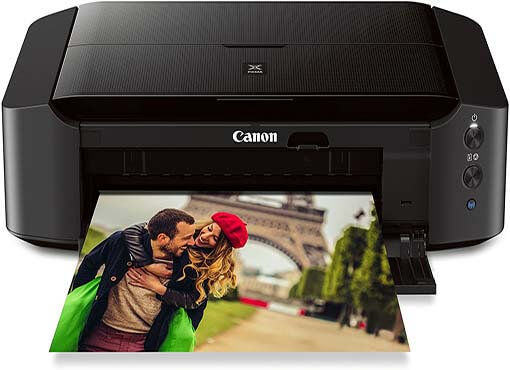 CHECK THE PRICE
The Canon iP8720 is the best 13×19 printer for you if you're looking for catchy and vibrant photos because it can print 9600 x 2400 colors per inch using six different ink options, producing excellent details and shadows. Not to mention, it supports borderless printing – the photo prints look great.
Furthermore, it runs the Full HD Movie Print Software, so you can capture shots from your favorite movies and turn them into photos whether you're using a digital camera, PC, or mobile phone.
It also supports AirPrint for printing from iOS devices. In addition, the Canon IP8720 is compatible with Google Cloud, regardless of whether you're using Windows, Mac, Linux, or other Chrome devices.
On top of that, the ChromaLife100+ system ensures quality photos with excellent longevity using new technology that focuses on producing brighter and richer pigments with darker black that are weather-resistant. In addition, the system is currently combined with PIXMA's Print Head FINE to enhance the photo quality even more and provide high precision.
One of the best advantages of buying a canon printer is that you can get My Image Garden, a nifty software that allows the user to choose different templates for printing gift cards, photo collages, and more. Besides, it includes multiple automatic layouts and filters, making printing more enjoyable and allowing you to get more creative with your photos.
The Creative Park Premium is also a convenient service for genuine Canon inks users that offers access to even more templates and photos.
Pros:
Superior resolution
6-color ink system
Supports CD/DVD printing
Relatively fast printing
Features ChromaLife100+ for quality photos
My Image Garden software to organize the prints
Creative Park Premium for more templates
Works in "Quiet Mode"
Cons:
A single paper tray with a 150-sheet capacity
Bottom Line
The Canon iP7820 is a user-oriented printer that's designed for printing stunning photos. We all know that inkjets are better than laser printers when it comes to printing photos, but this printer is even better than most inkjets, for that matter, let alone its excellent price range.
3. Epson EcoTank Photo ET-8550 – Best Value for Money
CHECK THE PRICE
As its name implies, the Epson EcoTank Photo ET-8550 features ink tanks rather than traditional cartridges. As per the company, this saves up to 80% if ink costs, offering around 6,200 extra coloring pages more than other printers with each ink set.
The Epson Smart Panel App is another favorable feature that guides you through the setup and helps you run the printer remotely from your mobile device. Meanwhile, you can choose to operate the printer through active voice or the touchscreen color display panel. All in all, the printer is one of the fastest and easiest to control.
In terms of media, the Epson ET-8550 doesn't fail to impress either. In addition to 13" x 19" photos, it supports borderless photos, auto 2-sided printing, cardstock and other paper up to 1.3 mm thick, and even CD/DVD printing.
Graphics are extremely vibrant yielding high accuracy, which is pretty expected from Claria ET Premium ink formulation that guarantees crisp photos that are highlighter, water, and smudge resistant even on plain paper.
In fact, Epson claims that based on accelerated tests, the glossy photos produced using Claria ink can last for up to 300 years when stored in archival sleeves with unmatchable resistance to atmospheric conditions, including light intensity, humidity, etc.
Pros:
Utilizes ink bottles rather than small cartridges
The Epson Smart app is extremely convenient
Excellent ink stability with outstanding durability
Can print on various media
Low running costs
Two-year limited warranty
Cons:
High-quality photo mode is slow
Up-front cost is a bit expensive
Bottom Line
The Epson EcoTank ET-8550 is ideal for producing high-end photos with increased longevity without going crazy on ink or paper costs. Although it might seem a bit more expensive than other printers, it saves you much more cash in the long run.
4. Canon PIXMA TS9520 – Best for Home Offices
CHECK THE PRICE
The Canon PIXMA TS9520 is an amazing wide-format printer with rich features and capabilities regarding texts, photos, and graphics printing. However, we recommend using it for small home businesses because of the low-volume capacity, which can lead to high running costs if used for large-scale printing.
The output quality is hard to beat, but then again, that's no surprise from a 5-ink PIXMAs; it's pretty much what you get from the TS line. Along with that, the performance is a real surprise, particularly the ability to print on a wide range of media, and not only that, but you can use both trays to print different paper sizes with different formats at the same time.
The software is worth bragging about too. It features an Easy-PhotoPrint editor that's ever so practical for editing photos and documents of all types. Moreover, the My Printer App does a brilliant job diagnosing errors, tweaking the printer's settings to fix bugs, and taking the necessary screenshots to send to the support team whenever needed. Unfortunately, this app is only Windows compatible, but hopefully, it'll soon be available for Mac and mobiles.
The Network Tool is another great app to use, enabling you to modify the network settings and set the printer to connect to the preferable network to ensure the best performance possible, primarily that the printer doesn't support Wi-Fi Direct. Hence, most users rely on network connectivity as Ethernet is becoming less available with newer computing devices.
Lastly, you shouldn't miss out on PosterArtist Lite, a feature that adds poster and signage templates to the printer related to a wide range of professions and events so the user can create top-notch wall adornments and signs.
Pros:
Affordable
Excellent prints quality
The software is quite handy
Can connect to Alexa
Supports a variety of connectivity options
Cons:
Consumes too much ink
No Wi-Fi Direct connectivity
Bottom Line
As you can see, the Canon PIXMA TS9520 has a lot to put on the table. Yet, you'll need to upgrade it as soon as your business grows beyond its printing capacity, so go for this one if your needs are quite limited.
5. Epson WorkForce WF-7720 – Best Family Printer
CHECK THE PRICE
The Epson WorkForce WF-7720 is a printer that doesn't go extreme on any par. It has what it takes to get the job done, whether it's printing, scanning, copying, or faxing, and that's about it. In other words, it's midway between low-end printers that are almost good for nothing and the expensive and more professional ones that are good for pretty much everything.
Although the WorkForce WF-7720 has dual trays of 500-sheet capacity, we don't recommend using it for such a high workload because the expenses per page are more than they should be, so we think you can find better options for such a purpose. On the other hand, the printer can handle the occasional high output.
It also features a 35-page auto document feeder for different purposes that you can easily control through the 4.3-inch navigation screen. The printer's panel is pretty straightforward that even kids can learn how to use it within a few minutes.
Jumping to print quality, we're quite impressed with how borderless prints turned out when compared to laser printers in particular. Nonetheless, the color accuracy isn't the best compared to many other inkjets that fall into the same price range.
Connectivity, however, is as good as it gets whether you're using a PC, laptop, MacBook, Android tablets, iPhones, or otherwise. It supports Wi-Fi Direct, Ethernet connectivity, and NFC, so we're sure that connecting it to your preferred device won't be a problem.
Pros:
All-in-one printer
Multiple connectivity features
Large input capacity
Decent printing speed
Features an automated feeder
Easy to use and navigate
Cons:
Poor color accuracy
High running costs when printing high volumes
Bottom Line
The Epson WorkForce 7720 is a relatively low-budget friendly that's best for printing school assignments, occasional work documents, and other low-key purposes. Even though you won't have an issue crossing that line every once in a while, it's in your best interest to keep it for home use because it beats other printers that are primarily manufactured for such a purpose.
Factors to Consider When Buying a 13×19 Printer
In the coming section, we'll explain some key points to help you make up your mind and pick the best printer.
Capabilities
Nowadays, printers can do more than just print. As you can tell from our reviews, we now have "all-in-one" printers that can copy, scan, and fax as well. These printers are a great catch for someone who actually needs a copier or a scanner because you don't have to spend a lot of money to get such services.
However, these capabilities come at a price, and it's way more affordable to get a printer that only prints than a multifunctional printer. Therefore, it's wiser to spend more money on getting a printer with higher printer features and better performance than getting an all-in-one printer when you don't actually need it.
Technology
Printers fall into one of two categories. The first is inkjets, which rely on ink cartridges with all their pros and cons, and the other and more advanced printer technology is a laser.
To choose the right type, you have to understand what each type offers. In short, inkjets offer better quality when it comes to printing photos and images. Additionally, they're far more affordable than laser printers.
All that aside, there's a lot that you have to deal with if you get an inkjet starting with the higher running costs because you keep buying ink, and also if you stop using it for some time, the ink dries, and your money goes to waste.
On the contrary, laser printers don't require much other than the printing material, and generally speaking, the toners used for printing can survive for long periods. Laser printers are great for text documents, but they offer inferior color accuracy and image quality, so they're not a good option for photographers or photo-based projects.
Printing Speed
The printing speed is a must-consider factor, particularly for business owners bound to specific deadlines and delivery dates.
In fact, some printers excel when it comes to scheduling prints and prioritizing documents that need to be printed. Meanwhile, others require much effort to keep up with your workload because they can't be remotely controlled or feature a scheduling software or application.
Paper Capacity
Paper capacity is another essential element when choosing the right printer for your home business or your office. It's worth mentioning, though, that it's not just the input tray that you have to think about, but the output tray as well because many printers will allow you to add many sheets, but with all the extra trays, you can't print on them all in one session.
Regardless, the difference between the trays' capacity is still a matter of relativity, making more printers better than the other. Still, it's as crucial as having a large input capacity, to begin with.
Running Costs
Cheaper printers don't necessarily have lower running costs, and the opposite is true, so you should always keep that in mind. For instance, the Canon PIXMA TS9520 is a relatively affordable printer. Yet, you'll pay tons of money for ink because it consumes more ink than average.
This is not much of an issue for users who don't print large volumes, but you need to think twice if your business depends on it.
Final Verdict
It's crystal clear that all the printers on our list excel when used in the right place. While we think that the HP Color LaserJet Pro is the best 13×19 printer for most users, there's no ultimate best because the scenarios differ. However, we trust you'll make the right decision because we gave you the key features that'll help you figure out precisely what you need.
I am a bilingual, meticulous, and hardworking professional. As a high-energy professional, and printing specialist who offers high-quality printing services I possess excellent oral and written communication skills coupled with an ability to establish and maintain strong rapport with clients. I am able to prioritize workloads and handle multiple projects simultaneously and efficiently. My work experiences have made me accustomed to working in fast-paced environments with the ability to think quickly and successfully handle difficult situations.